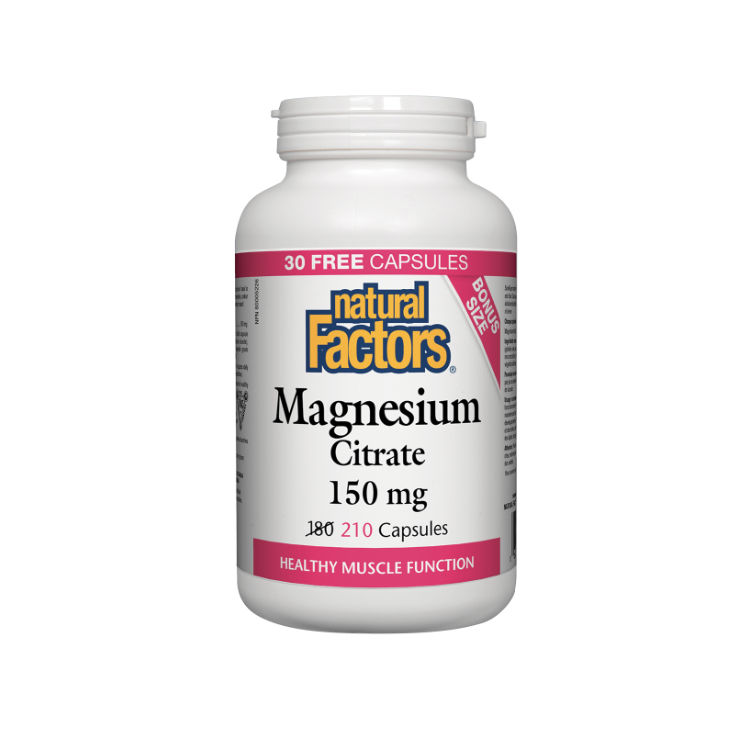 Natural Factors, Magnesium Citrate, 210 Capsules
Size
210 capsules
/
Shipping Weight
275g
Retail Price CA$20.99
CA$18.99
Product Info
Highlights
Non-GMO
·
Gluten Free
·
No Preservatives
·
No Artificial Colours
Description
‍‍Magnesium is required for the formation of bones and teeth, and for nerve and muscle function. It is involved in numerous enzyme reactions that keep the body working properly. It regulates growth and development, and supports immune function and temperature regulation. Shaky hands, tension headaches, nervousness, and muscle spasms all respond favourably to magnesium.‍‍
‍‍Magnesium is vital to hundreds of enzyme reactions and has more health benefits attributed to it than any other mineral including calcium. Magnesium, along with calcium, is a shock-absorber, helping to prevent the body from experiencing excessive stress. It is better absorbed in citrate form. Studies show that mineral citrates have superior absorption especially when taken on an empty stomach.‍‍
Aids in the development of strong bones and teeth
Supports the nervous system during times of stress
Relaxes skeletal muscles, smoothes muscles, and the GI tract
Supports cardiovascular health
Helps metabolize fats, proteins and carbohydrates
‍‍‍‍‍‍
‍
Suggested Use
1-3 capsules daily, or as directed by a health care practitioner.
Medical Ingredients
| | | |
| --- | --- | --- |
| Magnesium (as magnesium citrate) | …………………… | 150 mg |
Ingredients
Gelatin capsule(gelatin,purified water),microcrystalline
cellulose,magnesium stearate(vegetable grade).
Caution
This product is not intended to diagnose, treat, cure, or prevent any disease.
Disclaimer
You should not use the information or services on this Site to diagnose or treat any health issues or for prescription of any medication or other treatment.
Always check the product label or packaging prior to using any product. If there are discrepancies, customers should follow the information provided on the product label or packaging.