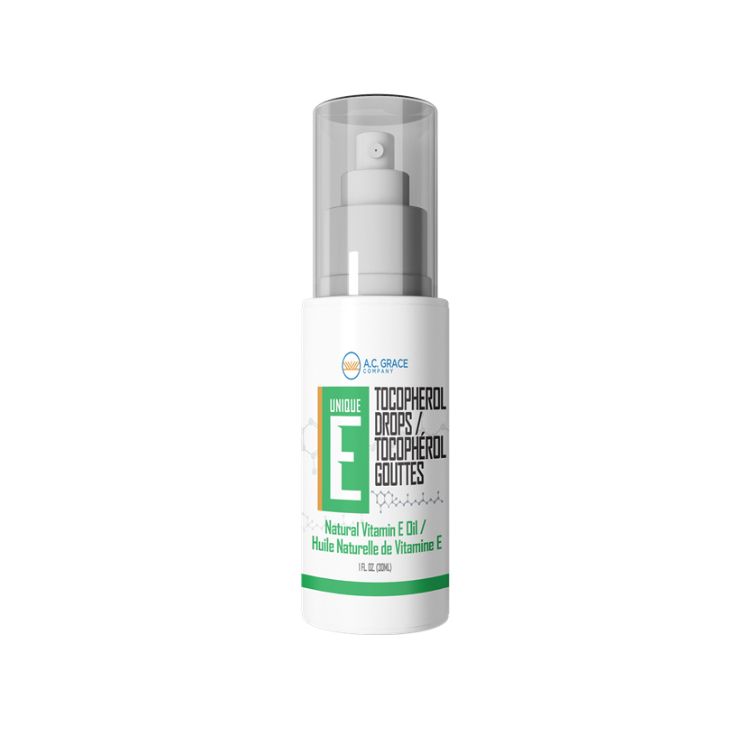 A.C. Grace Company, Unique E, Tocopherols Oil, 29ml
Size
29 ml
Shipping Weight
60 g
Retail Price $32.95
$30.99
Availability
Sorry, this item is out of stock
Description
UNIQUE E® Tocopherols Oil is ideal for vegetarians, those who prefer to not swallow a softgel, and for dosing to children and animals. Ideal for soothing and hydrating the skin, it can be used to moisturize scars and wounds.
It's the exact same all-natural, pure vitamin E concentrate found in our Mixed Tocopherols softgels, consisting of the natural form of vitamin E as obtained through the diet and as used by the body. The concentrated formula provides the synergistic benefits of the complete vitamin E topocpherol complex (d-alpha, d-beta, d-gamma, and d-delta tocopherols) and delivers the highest biological activity by providing the optimum proportions of the complex in the body – and is completely void of fillers or additives that can turn rancid.
Vitamin E is a complex of eight molecules that work together synergistically. Taking a Vitamin E supplement with only d-alpha tocopherol instead of the entire mixed tocopherol family of isomers can actually deplete the level of d-gamma tocopherol in the body.
The mainstream medical community only recently recognized the importance of d-gamma tocopherol. But A. C. Grace has noted the importance of d-gamma tocopherol since 1962. Our proprietary formula of concentrated tocopherols is specifically designed to provide the highest biological activity and maximum synergistic benefits of the all-natural complex.
Vitamin E supplementation can provide many valuable health benefits:
Cardiovascular Health
Supports overall cardiovascular and circulatory health
Promotes healthy coronary blood flow
Provides antioxidant support
Supports the body's ability to appropriately process and utilize important lipids
Helps maintain healthy cholesterol levels
Helps support healthy red blood cell flow
Aging
Supports healthy focus and memory retention
Helps to promote healthy brain function
Provides antioxidant support throughout the body
Helps maintain the integrity of cellular function
Supports healthy immune function
General Health
Promotes eye health
Supports and promotes the immune system
Supports the body's ability to regulate pro-inflammatory molecules, including C-reactive protein
May be applied externally as a topical to promote dermal health
Suggested Use
Adolescents 9-18: Take 4~8 drops a day.
Adults: Take 4~12 drops a day.
Take with a meal.
Medical Ingredients
| | | |
| --- | --- | --- |
| Vitamin E (d-alpha tocopherol) | …………………… | 71.5 mg AT |
Ingredients
Mixed Tocopherol, Water
Caution
Cansult a health care practitioner prior to use if you have cancer, cardiovascular disease, diabetes or are taking blood thinners.
Disclaimer
You should not use the information or services on this Site to diagnose or treat any health issues or for prescription of any medication or other treatment.
Always check the product label or packaging prior to using any product. If there are discrepancies, customers should follow the information provided on the product label or packaging.