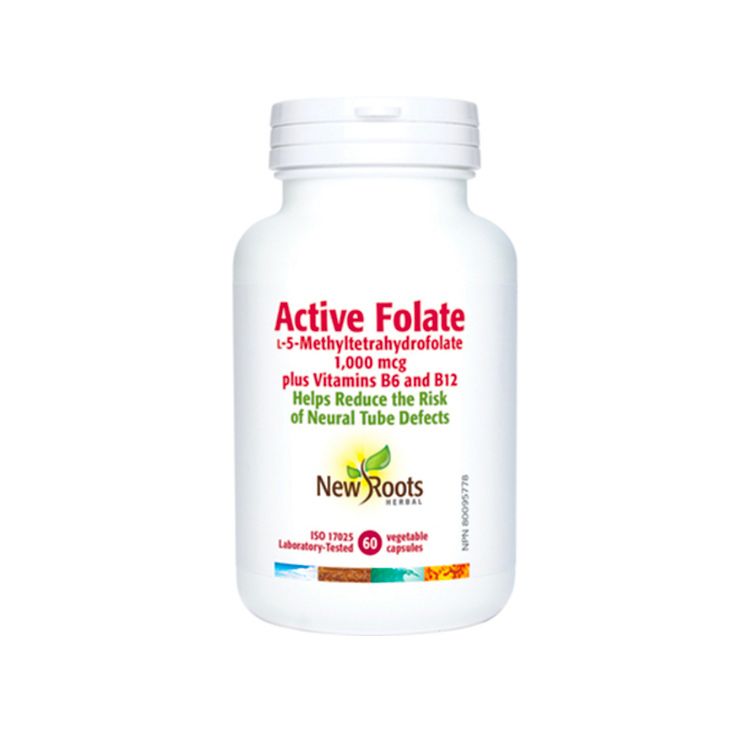 New Roots, Active Folate, 60 Vegetable Capsules
Size
60 vegetarian capsules
Shipping Weight
50 g
UPC
628747119009
NPN
80095778
🔥 13 people have viewed this item in the last 7 days
Retail Price $11.99
$9.99
Availability
Sorry, this item is out of stock
Description
Active folic acid (ʟ‑5‑methyltetrahydrofolate) is critican for prenatal health, embryonic nervous-system development, and protection from neural-tube deficiency.
ʟ‑5‑Methyltetrahydrofolate helps reduce the risk of neural-tube defects when taken prior to conception and during early pregnancy. It also helps with body-tissue growth and renewal; in addition, it enables the body to metabolize carbohydrates, fats, and proteins. This makes it possible for cells to easily assimilate and use nutrients for energy creation within their mitochondria (cellular power plants). Supplementing with active folic acid can also prove beneficial for many people with impaired function of the enzyme that transforms regular folic acid to this active form the body easily recognizes and exploits. Our formula includes vitamins B12 and B6 in their premium bioactive forms, methylcobalamin and pyridoxal-5′-phosphate (P5P). These vitamins serve as cofactors for metabolic activity throughout the body.
New Roots Herbal's Active Folic Acid is definitely a critical supplement for a healthy pregnancy,  along with many other promising therapeutic applications.
Suggested Use
Adults: Take 1 capsule daily or as directed by your health-care practitioner. If you are taking other medications, take this product a few hours before or after them.
Ingredients
Each vegetarian capsule contains:
Folate (from calcium ʟ‑5‑methyltetrahydrofolate)
1 mg
Vitamin B6 (pyridoxal-5′‑phosphate)
2 mg
Vitamin B12 (methylcobalamin)
2.8 mcg
Non-medical Ingredients: Microcrystalline cellulose, vegetable magnesium stearate, and silicon dioxide in a non‑GMO vegetable capsule composed of vegetable carbohydrate gum and purified water.
Caution
Do not use if seal is broken. Keep out of reach of children.
Disclaimer
You should not use the information or services on this Site to diagnose or treat any health issues or for prescription of any medication or other treatment.
Always check the product label or packaging prior to using any product. If there are discrepancies, customers should follow the information provided on the product label or packaging.
A Better Life Starts Here.
Proudly Canadian
100% Canadian owned and operated.
Reward Points
Collect & redeem points on every item.
Professional Advice
Answers to your health question by nutritionist.
Easy Store Pickup
Get your order in as little as 30 minutes.