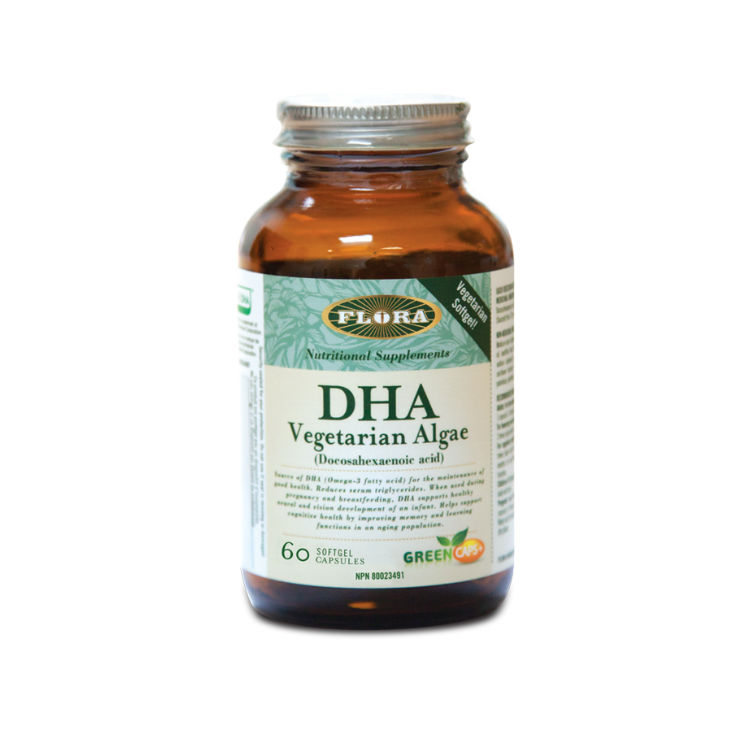 Flora, DHA Vegetarian Algae, 60 Capsules
Size
60 vegetarian capsules
/
Shipping Weight
270g
Retail Price CA$31.99
CA$25.99
Product Info
Highlights
Vegan
·
Plant Based
·
No Preservatives
·
100% Natural
Description
‍‍Looking to up your omega-3s sustainably? Go straight to the source with Flora DHA Vegetarian Algae. Fish get their omega-3s from eating algae, so we're cutting out the middle man (or fish, rather) and bringing you a vegetarian, sustainable alternative to fish oils. Flora's blend provides DHA supplementation, essential for the proper functioning of our brains as adults, the development of the nervous system and visual abilities during the first six months of life, and key for pregnant and nursing women.
Suggested Use
Adults: Take with food. For maintenance of good health, take 1 capsule 1-3 times daily. For support of healthy blood triglyceride levels, take 2 capsules 3 times daily. For support of healthy brain function, take 2 capsules 2 times daily. Use for a minimum of 6 months to see beneficial on cognitive function. Children 9-18 years old: Take 1 capsule 1-2 times daily with food. Pregnant and breastfeeding women: Take 1 capsule 1-2 times daily with food.
Medical Ingredients
| | | |
| --- | --- | --- |
| DHA (Sourced from 715 mg of Schizochytrium spp. oil) | …………………… | 250 mg |
Ingredients
Medium-chain triglycerides, high oleic sunflower oil, modified food starch, carrageenan, glycerin, sodium carbonate / sorbitol,rosemary extract, sunflower lecithin, mixed tocopherols, ascorbyl palmitate, purified water
Caution
This product is not intended to diagnose, treat, cure, or prevent any disease.
Disclaimer
You should not use the information or services on this Site to diagnose or treat any health issues or for prescription of any medication or other treatment.
Always check the product label or packaging prior to using any product. If there are discrepancies, customers should follow the information provided on the product label or packaging.