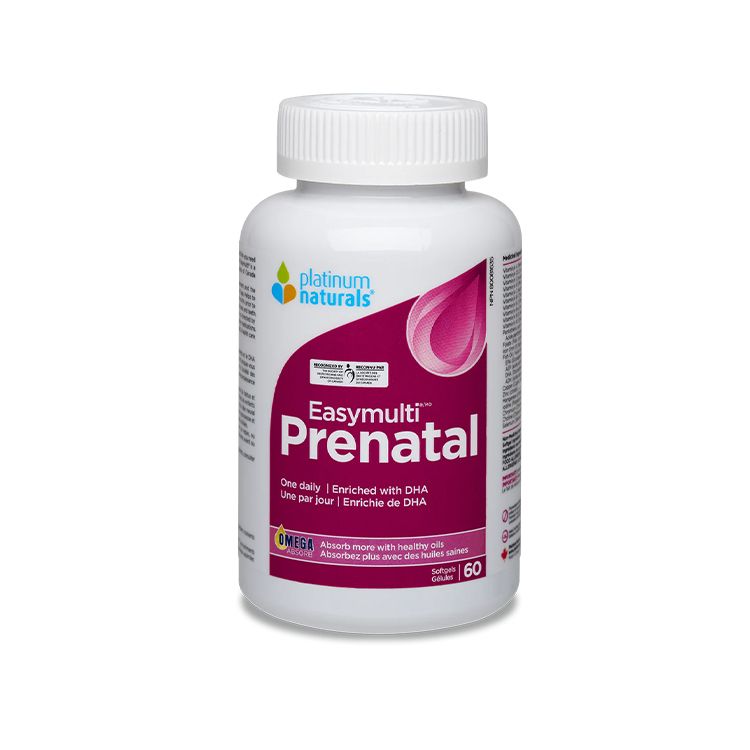 Platinum Naturals, Easymulti Prenatal, 60 Softgels
Size
60 gelcaps
Shipping Weight
145 g
UPC
773726030995
NPN
80081635
Retail Price $47.39
$39.99
Availability
Sorry, this item is out of stock
Description
‍‍Featuring a booster of DHA, Platinum Easymulti Prenatal is a comprehensive, single dose softgel multivitamin for pregnant or nursing mothers and those trying to conceive.‍‍
Supports fertility when trying to conceive.
Replenishes vitamins and minerals depleted by the added demands on the body of a growing fetus.
Reinforces the mother's immune system at a critical time when she cannot afford to become ill.
Enhances the mother's vitality and combats feelings of exhaustion, low energy and weakness often experienced in pregnancy.
Makes up for nutritional shortfalls in the mother's diet and ensures that the baby has an adequate supply of nutrients.
Reduces the risk of low birth weight and improves the quality of breast milk.
Contributes to the development of healthy bones and higher bone density.
‍‍‍‍‍‍
‍
‍
Suggested Use
1 Softgel daily. Take with meals.
Ingredients
Each gelcap contains:
Vitamin A (Palmitate)
2500 IU
Vitamin D (Cholecalciferol)
600 IU
Vitamin C (Ascorbic Acid)
85 mg
Vitamin E (D-alpha tocopherol)
60 IU
Vitamin K1 (Phytonadione)
90 mcg
Vitamin B1 (Thiamine Hydrochloride)
5.6 mg
Vitamin B2 (Riboflavin)
5.6 mg
Vitamin B6 (Pyridoxine hydrochloride)
7.6 mg
Vitamin B12 (Methylcobalamin)
26 mcg
Vitamin B3 (Niacinamide)
36 mg
Iron (Bisglycinate)
15 mg
Fish Oil (from sardine and anchovy)
600 mg
Copper (Cupric citrate)
1 mg
Iodine (Potassium (Iodide)
220 mcg
Chromium (HVP Chelate)
200 mcg
Choline (Bitartrate)
50 mg
Selenium (chelate)
30 mcg
Non-medical Ingredients: Olive Oil (cold pressed, extra virgin), Lecithin and Bees Wax.
Capsule ingredients: Gelatin, Glycerin (USP 96 %), Purified Water, Caramel (natural colour).
Caution
Keep bottle tightly closed. Store away from direct heat and moisture. Keep out of reach of children. Do not exceed recommended dose. Do not purchase if outer seal is broken or damaged. When using nutritional supplements, please inform your physician if you are undergoing treatment for a medical condition or if you are pregnant or lactating. If you have a bad reaction to product discontinue use immediately.
Disclaimer
You should not use the information or services on this Site to diagnose or treat any health issues or for prescription of any medication or other treatment.
Always check the product label or packaging prior to using any product. If there are discrepancies, customers should follow the information provided on the product label or packaging.