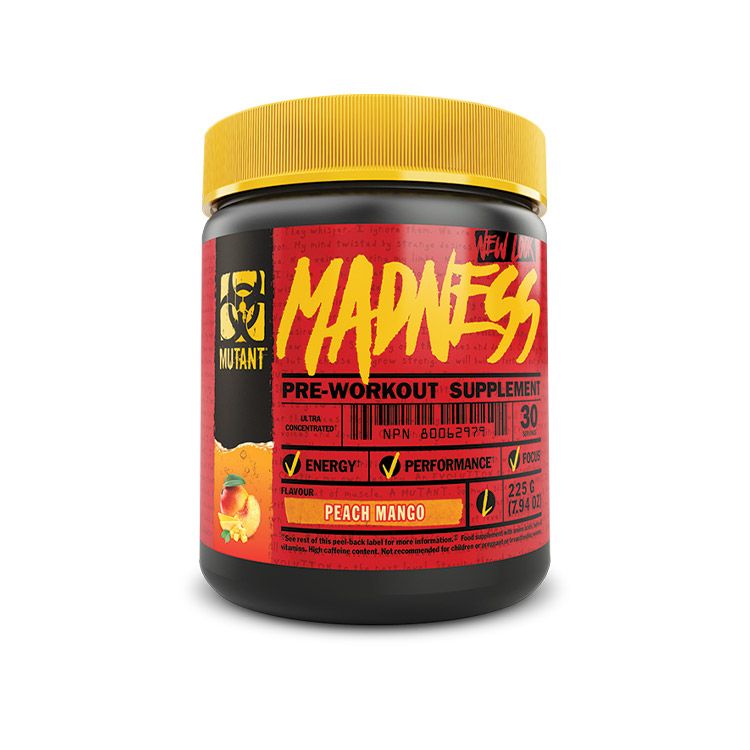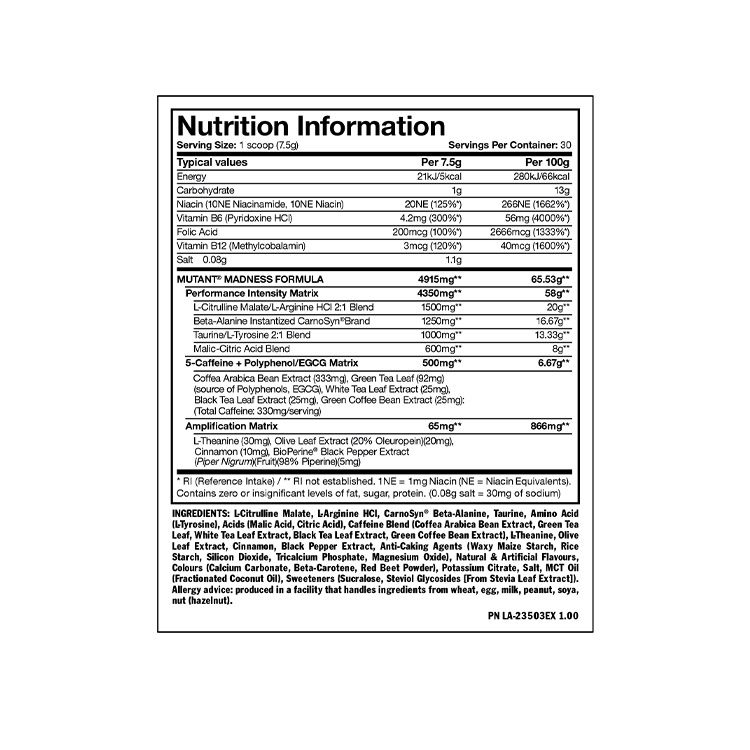 Mutant, Madness Pre-Workout, Peach Mango, 225g
Size
30 servings
Shipping Weight
290 g
UPC
627933026176
NPN
80062979
Retail Price $39.99
$34.99
Availability
Sorry, this item is out of stock
Description
MUTANT MADNESS seizes the pre-workout experience and launches it into the stratosphere! This maximum-strength formula will jolt your senses and help you demolish your next workout. Sick pumps, razor-sharp focus and unstoppable intensity await you. We warn you — read the entire label first before trying — MUTANT MADNESS must be used responsibly!
Concentrated pre-workout fuel
Maximum strength
Insane energy
Explosive power
Increase mental focus
Support nitric oxide production
Addictive taste!
Suggested Use
As a food supplement for healthy adults performing high intensity exercise who are experienced pre-workout supplement users, add 1/2 to 1 level serving to 250 ml (~8 fl oz) of cold water, shake 5–10 seconds, and slam it back 30 minutes prior to workouts. First time users should try 1/4–1/2 serving in 250 ml of water first to assess tolerance.
Ingredients
Each serving contains:
Niacin (10NE Niacinamide, 10NE Niacin)
20 mg
Vitamin B6 (Pyridoxine HCI)
4.2 mg
Vitamin B12 (Methylcobalamin)
3 mcg
MUTANT® MADNESS FORMULA
4915 mg
- Performance Intensity Matrix
4350 mg
-- L-Citrulline Malate/L-Arginine HCI 2:1 Blend
1500 mg
-- Beta-Alanine Instantized CarnoSyn®Brand
1250 mg
-- Taurine/L-Tyrosine 2:1 Blend
1000 mg
-- Malic-Citric Acid Blend
600 mg
- 5-Caffeine + Polyphenol/EGCG Matrix: Coffea Arabica Bean Extract (333mg), Green Tea Leaf (92mg) (source of Polyphenols, EGCG), White Tea Leaf Extract (25mg), Black Tea Leaf Extract (25mg), Green Coffee Bean Extract (25mg): (Total Caffeine: 330mg/serving)
500 mg
- Amplification Matrix: L-Theanine (30mg), Olive Leaf Extract (20% Oleuropein)(20mg), Cinnamon (10mg), BioPerine® Black Pepper Extract (Piper Nigrum/Fruit 98% Piperine)(5mg)
65 mg
Non-medical Ingredients: L-Citrulline Malate, L-Arginine HCI, CarnoSyn Beta-Alanine, Taurine, Amino Acid (Tyrosine), Acids (Malic Acid, Citric Acid), Caffeine Blend (Coffea Arabica Bean Extract, Green Tea Leaf, White Tea Leaf Extract, Black Tea Leaf Extract, Green Coffee Bean Extract), L-Theanine, Olive Leaf Extract, Cinnamon, Black Pepper Extract, Anti-Caking Agents (Waxy Maize Starch, Rice Starch, Silicon Dioxide, Tricalcium Phosphate, Magnesium Oxide, Natural & Artificial Flavours, Colours (Calcium Carbonate, Beta-Carotene, Red Beet Powder), Potassium Citrate, Salt, MCT Oil (Fractionated Coconut Oil), Sweeteners (Sucralose, Steviol Glycosides [From Stevia Leaf Extract])

Allergy advice: produced in a facility that handles ingredients from wheat, egg, milk, peanut, soya, nut (hazelnut).
Caution
Read and understand the entire warning before using. Do not consume within 4 hours prior to bedtime. Never exceed 2 servings per 24 hours.
Disclaimer
You should not use the information or services on this Site to diagnose or treat any health issues or for prescription of any medication or other treatment.
Always check the product label or packaging prior to using any product. If there are discrepancies, customers should follow the information provided on the product label or packaging.