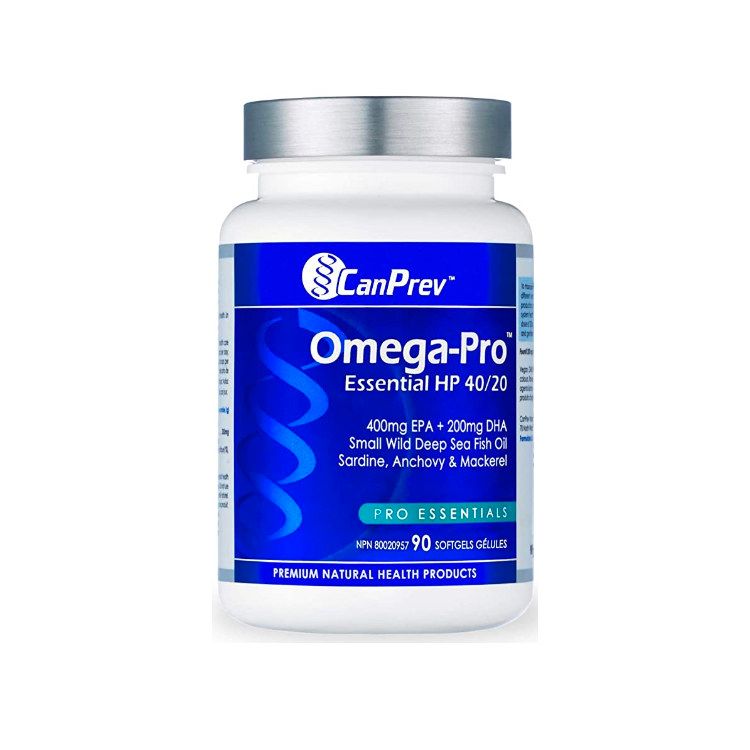 CanPrev, Omega-Pro Essential HP 40/20, 90 Softgels
Size
90 softgels
UPC
854378001295
Availability
Sorry, this item is out of stock
Description
When it comes to good fats, nothing can beat the health benefits of omega-3 essential fatty acids found in fish oil.
Your body doesn't make essential fatty acids on its own so they must be obtained through food or supplement sources. Fish oil contains two kinds of omega-3 fatty acids – docosahexaenoic acid (DHA), essential for life-long cognitive function and eicosapentaenoic acid (EPA), a mood regulator and essential for heart health that are found in the fatty tissues of cold water oily fish. Some nuts, seeds and vegetables oils contain alpha-linolenic acid which the body converts into DHA and EPA.
Your body needs a balanced amount of both omega-3 and omega-6 fatty acids for maintaining good health, brain function, growth and development. However, a typical North American diet high in fried foods, cookies, crackers and other snack foods contains elevated amounts of omega-6 fatty acids. This creates an imbalance, leaving the door open to inflammation.
Making sure you are taking adequate amounts of omega-3 daily, like the kind found in CanPrev's Omega-Pro™ Essential, helps maintain a healthy balance of omega-3 and omega-6 fatty acids in the body. CanPrev uses molecularly distilled fish oils derived from small, wild, deep sea fish from South America with added vitamin E to retain freshness. Omega-Pro™ Essential formulas go through rigorous testing by an independent laboratory for 14 separate, stringent quality tests.
Omega-Pro™ Essential 40/20 provides a higher potency of 400 mg of EPA and 200 mg of DHA.
Add CanPrev's Omega-Pro™ Essential to your daily health maintenance plan.
Pure omega-3 fish oil
400/200mg EPA/DHA ratio
Molecularly distilled
Derived from small wild fish (sardine, anchovy, mackerel)
With added vitamin E for freshness
Suggested Use
Adults - Take 1 to 3 softgels per day with food or as directed by a healthcare practitioner. For optimal results take daily.
Ingredients
Each softgel contains:
Fish oil (wild sardine, anchovy, mackerel)
1000 mg
Non-medical Ingredients: D-Alpha tocopherol, bovine gelatin, glycerin, purified water.
Caution
As with any natural health product, you should consult a healthcare practitioner on the use of this product. Do not use if seal is broken. Keep out of reach of children.
Disclaimer
You should not use the information or services on this Site to diagnose or treat any health issues or for prescription of any medication or other treatment.
Always check the product label or packaging prior to using any product. If there are discrepancies, customers should follow the information provided on the product label or packaging.
A Better Life Starts Here
.
Proudly Canadian
100% Canadian owned and operated.
Reward Points
Collect & redeem points on every item.
Professional Advice
Answers to your health question by nutritionist.
Easy Store Pickup
Get your order in as little as 30 minutes.