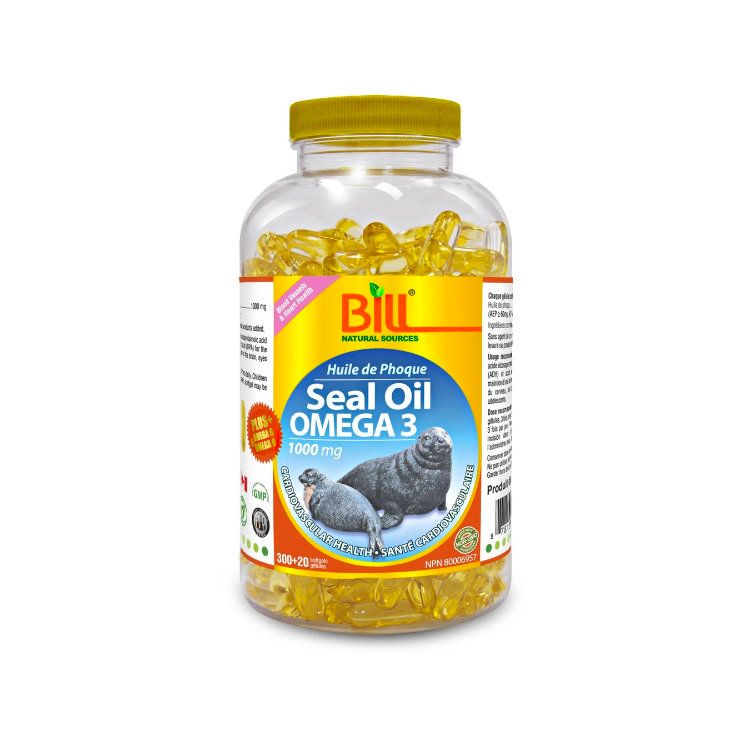 Bill, Natural Seal Oil Omega-3, 1000mg, 320 Softgels
Size
320 capsules
Shipping Weight
505 g
UPC
878135004978
NPN/DIN/DIN-HM
80006957
Availability
Sorry, this item is out of stock
Description
‍‍Omega-3 fatty acids are essential components that the human body cannot produce, and hence must be supplemented naturally. Seal oil is an excellent source of various Omega-3 essential fatty acids including Eicosapentaenoic Acid (EPA), Docosahexaenoic Acid (DHA), Docosapentaenoic Acid (DPA) and plays an important role in the development of the brain, eyes, and nervous system for children. EPA is a polyunsaturated fatty acid that is generally associated with lowering inflammation. DHA is a structural component of the brain, cerebral cortex, skin and retina. It is the most abundant omega-3 fatty acid in the brain and retina and plays a key role in the development of eye and nerve tissues. DPA is structurally similar to EPA and DHA and is associated with diverse nutritional and biological functions in the body. Seal oil is particularly rich in DPA compared to other marine oils.‍‍
‍‍Adults who wish to benefit from a higher amount of Omega-3 should try Bill Natural Sources® Omega-3 Seal Oil 1000mg Softgels. The dosage regimen for adults ensures you get 6000mg of seal oil daily with 360 mg of EPA, 480 mg of DHA and 180 mg of DPA.‍‍
Suggested Use
Adults and 14+ year old, take 2 softgels 3 times daily. Children 1 - 13 years old, take 1 softgel 3 times daily. For young children, softgel may be snipped to extract oil to be taken with juice or food.
Medical Ingredients
| | | |
| --- | --- | --- |
| Seal Oil Omega-3 | …………………… | 1000 mg |
Ingredients
Gelatin, glycerin, purified water
Caution
This product is not intended to diagnose, treat, cure, or prevent any disease.

Store in a cool, dry place, away from direct sunlight.
Disclaimer
You should not use the information or services on this Site to diagnose or treat any health issues or for prescription of any medication or other treatment.
Always check the product label or packaging prior to using any product. If there are discrepancies, customers should follow the information provided on the product label or packaging.