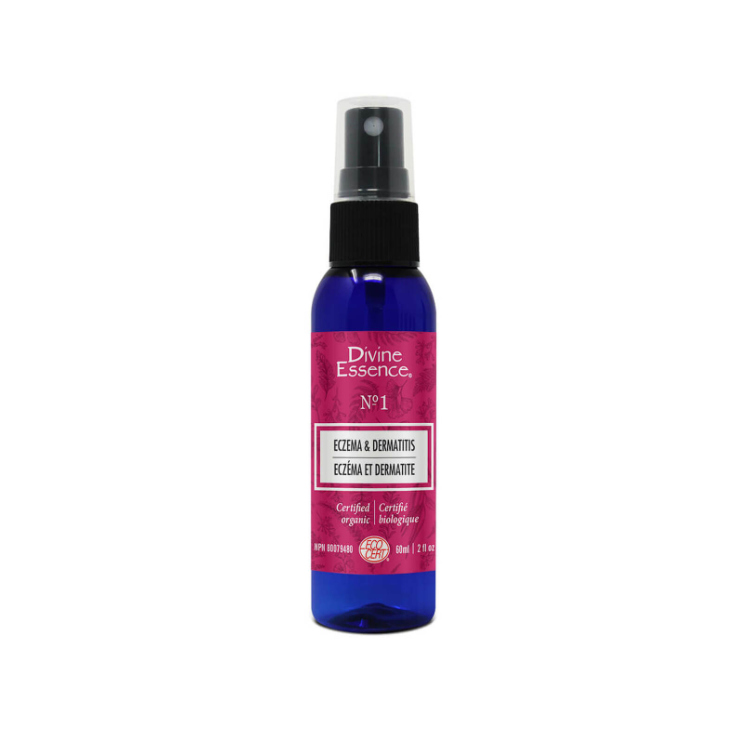 Divine Essence, Eczema & Dermatitis Spray No.1, 60 ml
Size
60 ml
/
Shipping Weight
100g
Retail Price CA$25.99
CA$22.99
Product Info
Highlights
Non-GMO
·
Organic
·
100% Natural
Description
Relieve itching due to dry skin caused by eczema or dermatitis with this synergy of Carrot beauty oil and essential oils of Italian Helichrysum, Petitgrain - Bitter Orange and Aspic Lavender. Specially designed for atopic, dry and sensitive skin.
Used in aromatherapy for the symptomatic relief of eczema and dermatitis.
Suggested Use
Apply or spray locally and evenly up to 3 times a day.
Ingredients
Helichrysum italicum Oil 0.5%, Caprylic/Capric Triglyceride (Natural Source), Daucus Carota Extract, Helianthus Annuus Oil, Simmondsia chinensis seed Oil, Helichrysum Italicum Oil, Citrus Aurantium Amara Leaf/Twig Oil, Lavandula Latifolia Oil, Tocopherol (Vit. E).
Caution
FOR OCCASIONAL USE ONLY. DO NOT TAKE ORALLY. KEEP OUT OF REACH OF CHILDREN. In case of accidental ingestion, seek urgent medical attention or contact a Poison Control Center. Avoid contact with eyes and mucous membranes; if this happens, rinse thoroughly with vegetable oil. Do not use if you are pregnant or breastfeeding. If you have epilepsy or asthma, consult a health care practitioner prior to use. May cause allergic reaction (e.g. skin rashes, irritation or dermatitis); in which case, discontinue use and consult a health care practitioner. If nausea, dizziness, headache or allergic reactions occur, discontinue use. Not for use on inflamed, broken, irritated or sensitive skin or if suffering from dermatitis. Avoid exposing treated area to sunlight for 24 to 48hrs after application. Consult a health care practitioner if symptoms worsen or persist.
Disclaimer
You should not use the information or services on this Site to diagnose or treat any health issues or for prescription of any medication or other treatment.
Always check the product label or packaging prior to using any product. If there are discrepancies, customers should follow the information provided on the product label or packaging.