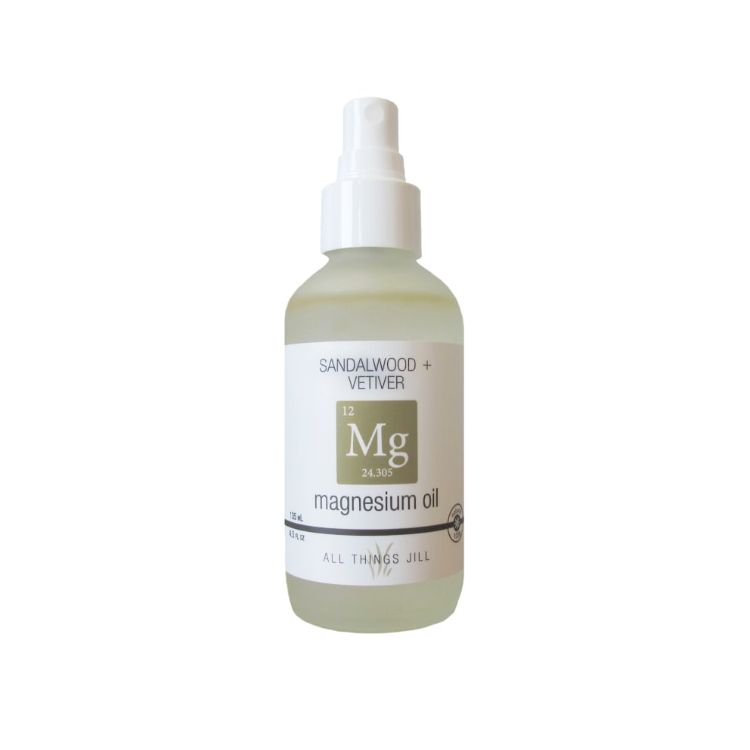 All Things Jill, Magnesium Oil Spray, Sandalwood + Vetiver, 125ml
Size
125 ml
Shipping Weight
180 g
Retail Price $17.00
$15.99
Availability
Sorry, this item is out of stock
Description
Formulated to facilitate the absorption of magnesium through the skin, our Magnesium Oil delivers a shot of magnesium chloride directly where you need it.
Magnesium oil is not a true oil, but rather a solution of magnesium chloride suspended in water. Magnesium is known to be a powerful addition to your skincare routine — it may improve your skin's overall appearance, reduce acne and other skin disorders by lowering cortisol levels and improving cellular processes. It may also function as a calming agent for skin issues such as rosacea and eczema.
A magnesium oil is best incorporated into your skincare routine after cleansing and exfoliating. Simply give your skin a few spritzes in the evening before applying a moisturizing lotion or cream for added skin benefits.
Sandalwood & Vetiver: a soothing and grounding option, beneficial for both mind and muscles.
Suggested Use
Shake well. Mist 5-10 sprays over your body 15 minutes prior to sleep. Spray onto clean skin, focusing on sore areas.
Ingredients
Water, Magnesium Chloride, Glycerin, Santalum album (Sandalwood) oil, Citrus paradisi (Grapefruit) oil, Cedrus atlantica (cedarwood) oil, Andropogon zizanioides (Vetiver) oil
Caution
Avoid broken or freshly shaven skin.
Disclaimer
You should not use the information or services on this Site to diagnose or treat any health issues or for prescription of any medication or other treatment.
Always check the product label or packaging prior to using any product. If there are discrepancies, customers should follow the information provided on the product label or packaging.